Our premises in Leicester's New Walk offer conferencing facilities, a first class library, full computerisation, thirty-three barristers and a dedicated clerking team headed by our Practice Manager.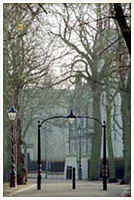 The client's professional requirements are catered for by an individual service, based in the traditional practices, but allied to a modern approach. Chambers is a successful set of lawyers, with individual Barristers specialising in the following areas among others:
Contract Law
General common law
Judicial appointments et al
Several Barristers and former members of Chambers hold judicial, or quasi-judicial, appointments such as Recorder, District Judge (Crime and Civil), Immigration adjudicators and Deputy and Assistant Coroner both in the UK and in the Caribbean.
Languages
Chambers enjoys the advantage of having a number of Barristers who speak foreign languages, including French, Gujerati, Urdu and Tamil.
Court Coverage
Our Barristers regularly cover work at the following centres: Article 2 investigations.
County Court
High Court
Court of Appeal
House of Lords
Coroner's Court
Immigration Court
Crown Court
Magistrates Court
Employment Tribunal
based in:

Leicester, Nottingham, Coventry, Northampton, Peterborough, Birmingham, Derby, Newark, Warwick, Oxford, Nuneaton, Wolverhampton, Bedford, Milton Keynes, Sheffield, Leeds, Manchester, Stafford, Grimsby, Hull, Lincoln, Cambridge, Solihull, Worksop, Boston, Skegness, Bradford, Luton, Grantham, Kettering, Burton-Upon-Trent, Mansfield, Chesterfield, Bradford, Stoke-on-Trent, Rugby, Walsall, Shrewsbury, Telford, Leamington Spa, Melton Mowbray, Dudley, Doncaster, Stamford, London, Corby, Scunthorpe and Stratford-upon-Avon.
Original documents
Please do not send original documents to Chambers. If originals are required at Court or for some other meeting then please either ask your firm's representative or the client to bring them when they attend.
Chambers cannot accept responsibility for any originals that are lost whilst being conveyed to, or by, Chambers or whilst in our care.
New Walk Chambers is committed to continued expansion using advanced technology to provide a better service to all of our clients both in Leicester and the other Court centres that we cover. Several of the Barristers are now capable of dealing with work through Direct Access.